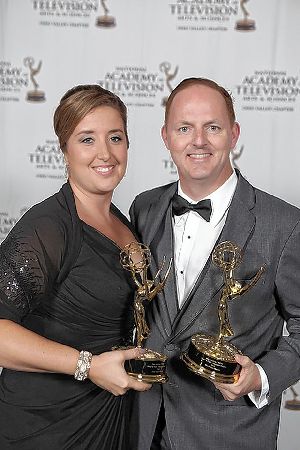 Chris and Julie Hedrick win second set of Emmys
From This Week News –
Emmy awards aren't always for glamorous small-screen actors and big-name network television shows.
Westerville parents Chris and Julie Hedrick took a break from watching their 6- and 8-year-old kids to accept two awards at the Ohio Valley Regional Emmys Aug. 2.
The Hedricks, who own the television production company Blue Skies HD Video & Film Productions, each won Emmy awards for their role in the WOSU-TV show Broad and High, and earned another nomination for a documentary titled They Could Really Play the Game.
Mr. Hedrick previously has won two other Emmys and racked up 16 other nominations, but the award this year was Mrs. Hedrick's first, and came on her first ever nomination. She said she was happy to finally join her accomplished husband.