The Uptown Westerville Merchant's Blog
Uptown Westerville, Inc. is hiring for an executive director. The executive director will manage all project activities and general operations of Uptown Westerville, Inc., including implementing services, programs and policies to support the retention and...
read more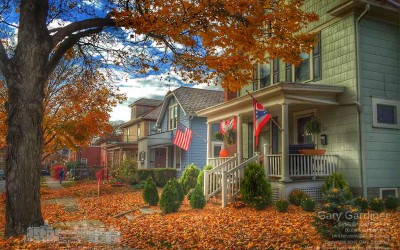 Congratulations Westerville Westerville, especially Uptown Westerville, dominated in This Week News public opinion polling to select the Readers Choice for the Columbus metro area. Westerville is the best in everything from doughnuts, pizza, burritos, vintage clothes,...
read more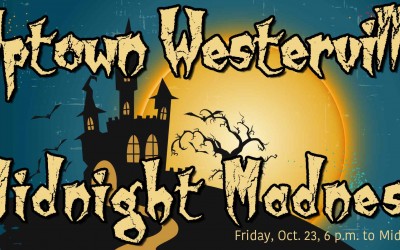 There's never enough time to make sure you get all the information you need about Midnight Madness in Uptown. Always on the Fourth Friday in October and the last Fourth Friday celebration of the year, this years Midnight Madness adds more space with the closing of East College where there will be food vendors and easier access to events planned at merchants and businesses along that section of the street.
read more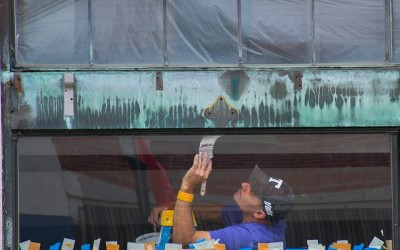 A painter finishes trim work on the interior of what will become Westerville Jewelers in the storefront next to the entrance to 8 State Bistro.
read more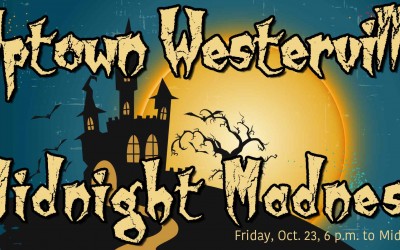 A long-time Uptown tradition, the Westerville Uptown Merchants Association presents Midnight Madness on October 23, 2015 from 6 p.m. to Midnight. Midnight Madness is an annual showcase event for the Uptown Westerville merchants. With decorated shops, treats, surprises, and scary good deals, it's a fun opportunity to visit Uptown Westerville. This is the night for visitors to check out their favorite haunts and dare to venture where they've never been before!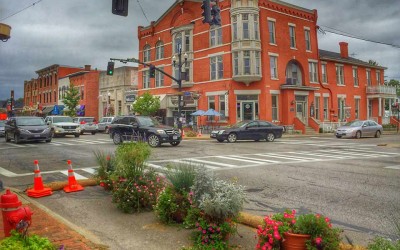 The changes known as bumpouts are intended to add width to the sidewalks at the intersection so pedestrians will have a shorter path across State Street making the crossing more safe and create a traffic calming effect for vehicles making turns and approaching the intersection.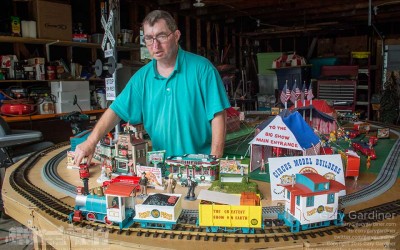 The main attraction on the annual metro-wide tour is his Disneyland model railroad featuring the monorail, Cinderella's Castle, Tomorrowland, and a cast of Disney characters.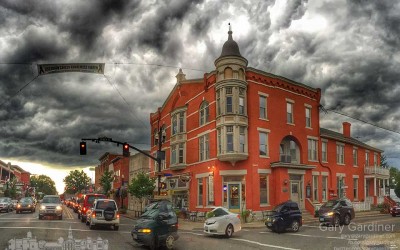 It was a very windy afternoon in Uptown Westerville and we have a photo gallery to prove it.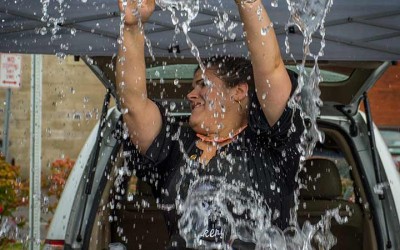 Summer's fury allowed no respite from wind and rain making it difficult for everyone to have a dry afternoon shopping at the Uptown Westerville Farmers Market. [gallery type="rectangular" link="file" size="medium" ids="29428,29427,29426"...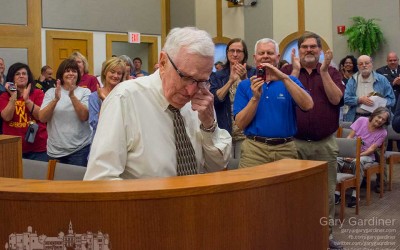 Early moments in city council's first meeting after a break honored two "Westerville Champions," swore in three fire fighters and a new fire marshal, and presented a certificate of appreciation to the city police department.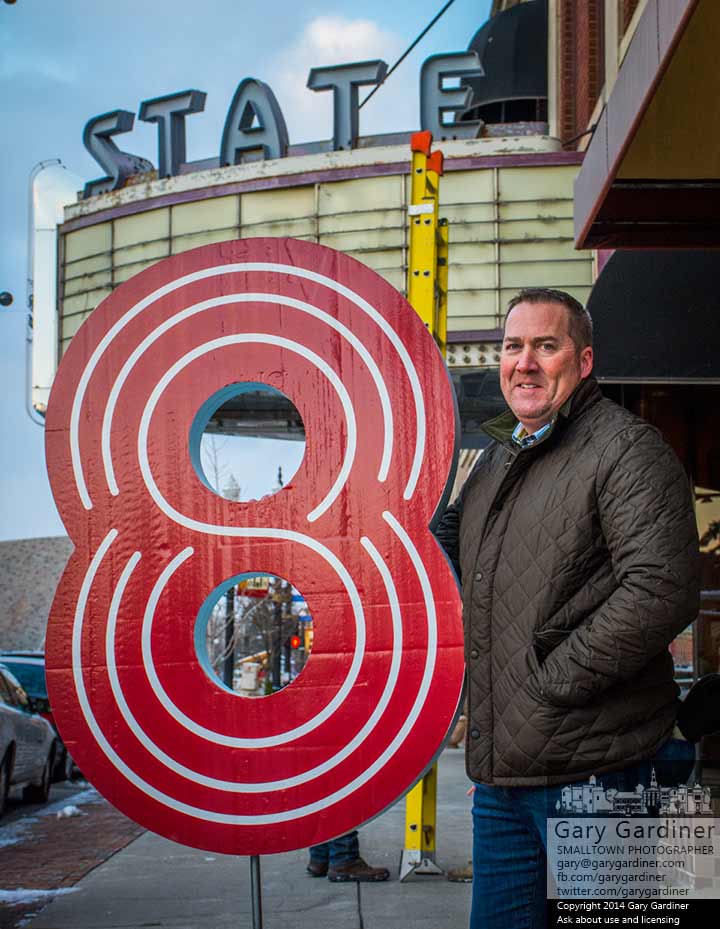 Kevin Campbell, the owner of 8 State Bistro restaurant, poses with a mockup of the sign planned for the top of the State Theater marquee when the restaurant opens.
Read More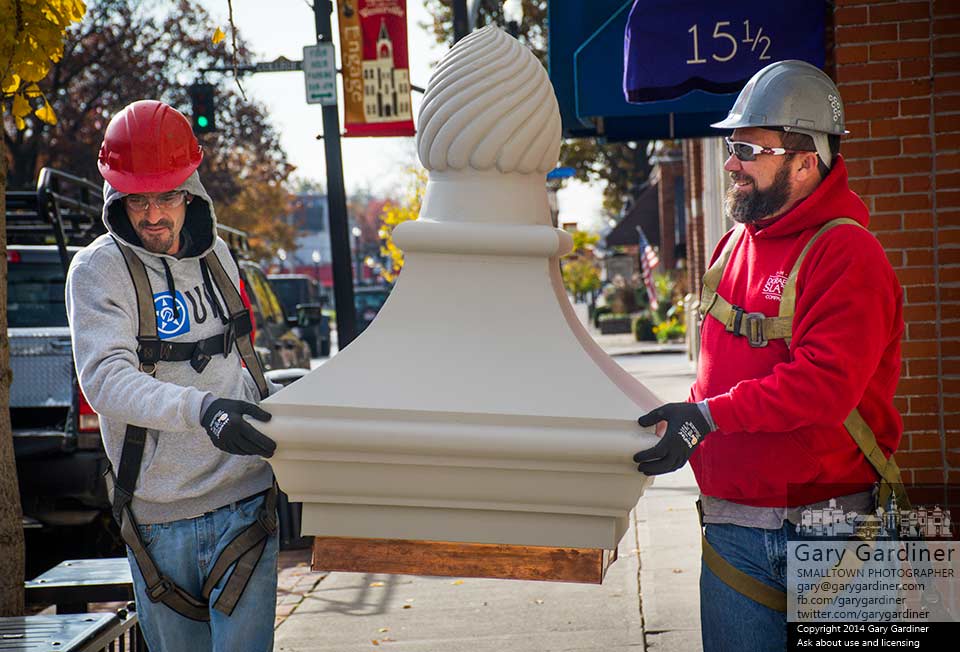 Workers install an upgraded acorn finial to the peak of the Holmes Hotel building in Uptown Westerville.
More photos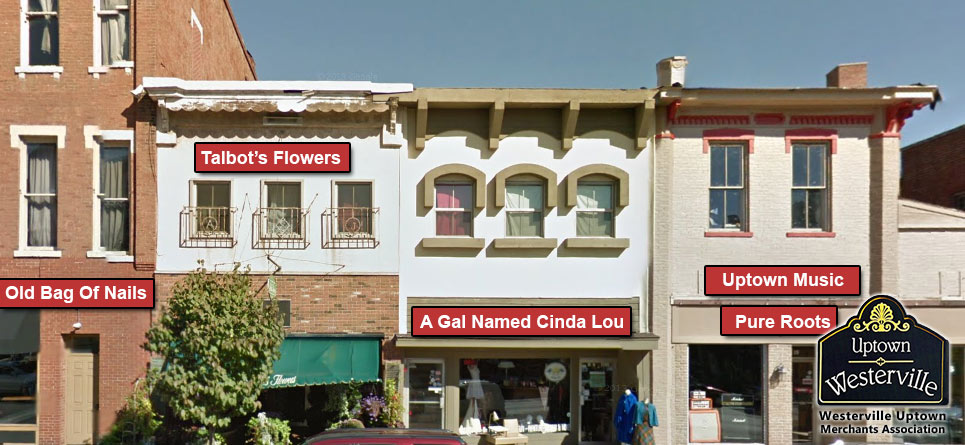 You'll be pleased to see that the scaffolding in front of Talbot's Flowers and A Gal Named Cinda Lou are gone.
Read More!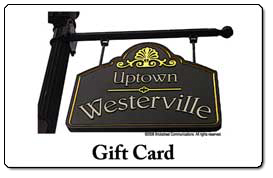 The Uptown Gift Card is a debit card sponsored by the Uptown Westerville Merchants Association to make shopping at its members easier for you and your family, friends, and business associates. With no fixed amount you can buy a card with just a few dollars or put as much as you want in any denomination. You can tailor your budget and fiscal needs and still provide a unique shopping experience to the person receiving your gift.
Shop Now