Main Street Westerville
Board of Directors Search
Uptown Westerville is more than a place. It is the lifeblood of Westerville.
Be part of that life.
Serve on the Uptown Westerville Main Street Board.
It won't be an easy task. But, it is important.
Important to how Westerville continues to grow. Important to how it manages change. Important to how it adjusts to the future.
Be important to Westerville. Be on the Uptown Westerville Main Street Board.
Main Street Westerville and Uptown Westerville is looking for a Board of Directors for a new organization that will be an advocate for every resident, business, and organization with a vested interest in the continued success of Uptown Westerville.
Working to fulfill the mission of "Enhancing lives by strengthening the Heart of  Westerville" we have reached the final phase of the development process.
The first and most crucial step will be to establish a dedicated and energetic Board of Directors. An application for board membership may downloaded and completed offline.
Please familiarize yourself with the board responsibilities and requirements.
Main Street Westerville is asking two things:
If you feel your talents, experience, and accessibility bring exceptional value to the organization, please complete the application.
Forward the application form to any high-caliber leaders you feel would be an asset to lead Main Street Westerville forward. The formation of a talented, energetic, and dedicated Board of Directors is the most critical step in this process.
All applications must be received by June 30.
Return all applications to WUMA Treasurer Debbie Bennati,  20 North State Street, Westerville, OH, 43081 or email to mainstreetwesterville@gmail.com.
Application Form and Board Member Job Description (PDF)
The Uptown Westerville Merchant's Blog
---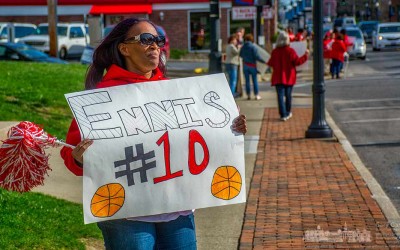 The Westerville South High School boys basketball team earned a return trip to the Division I state final with an 87-78 win over Garfield Heights in a semifinal March 18 at Ohio State.
read more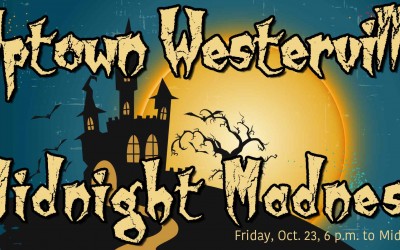 There's never enough time to make sure you get all the information you need about Midnight Madness in Uptown. Always on the Fourth Friday in October and the last Fourth Friday celebration of the year, this years Midnight Madness adds more space with the closing of East College where there will be food vendors and easier access to events planned at merchants and businesses along that section of the street.
read more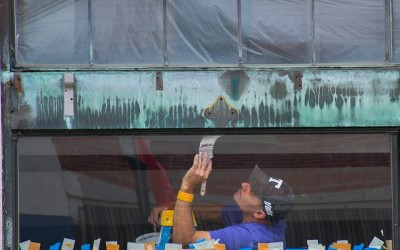 A painter finishes trim work on the interior of what will become Westerville Jewelers in the storefront next to the entrance to 8 State Bistro.
read more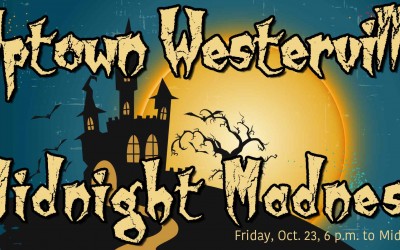 A long-time Uptown tradition, the Westerville Uptown Merchants Association presents Midnight Madness on October 23, 2015 from 6 p.m. to Midnight.
Midnight Madness is an annual showcase event for the Uptown Westerville merchants. With decorated shops, treats, surprises, and scary good deals, it's a fun opportunity to visit Uptown Westerville. This is the night for visitors to check out their favorite haunts and dare to venture where they've never been before!
read more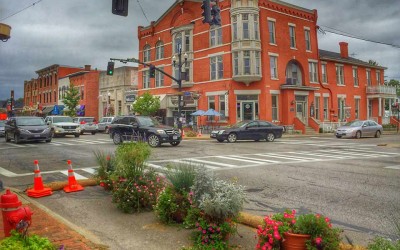 The changes known as bumpouts are intended to add width to the sidewalks at the intersection so pedestrians will have a shorter path across State Street making the crossing more safe and create a traffic calming effect for vehicles making turns and approaching the intersection.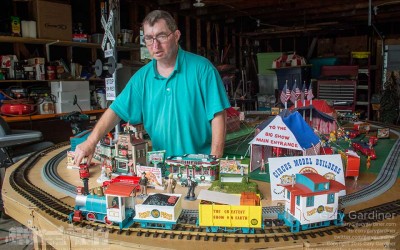 The main attraction on the annual metro-wide tour is his Disneyland model railroad featuring the monorail, Cinderella's Castle, Tomorrowland, and a cast of Disney characters.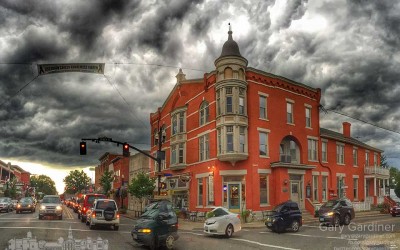 It was a very windy afternoon in Uptown Westerville and we have a photo gallery to prove it.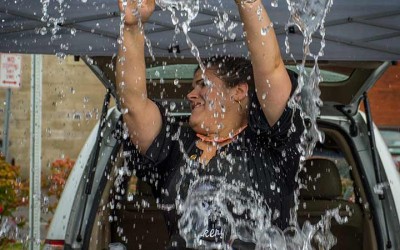 Summer's fury allowed no respite from wind and rain making it difficult for everyone to have a dry afternoon shopping at the Uptown Westerville Farmers Market. Sugar B Bakery's Angela empties water from the folds of her shelter after a rain squall dumped...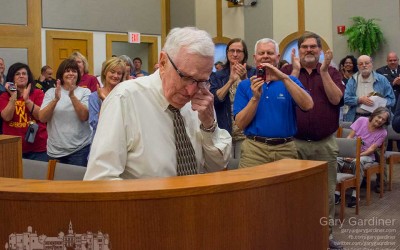 Early moments in city council's first meeting after a break honored two "Westerville Champions," swore in three fire fighters and a new fire marshal, and presented a certificate of appreciation to the city police department.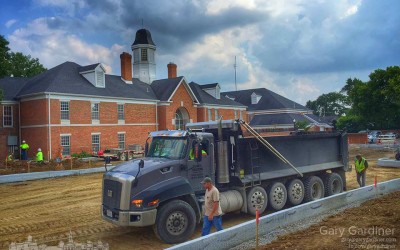 The everything above ground phase began Monday after inspectors approved the soil underlayer for gravel, concrete, and brick that will be the newest section of parking behind city hall. Next step is laying six inches of 57 gravel, about the size of a quarter, as the...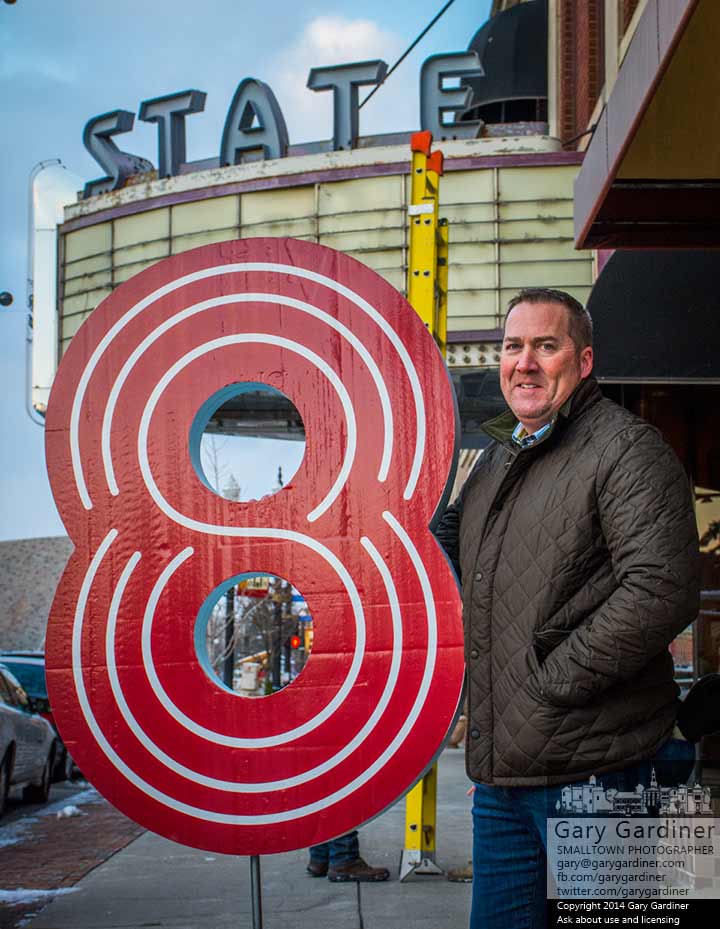 Kevin Campbell, the owner of 8 State Bistro restaurant, poses with a mockup of the sign planned for the top of the State Theater marquee when the restaurant opens.
Read More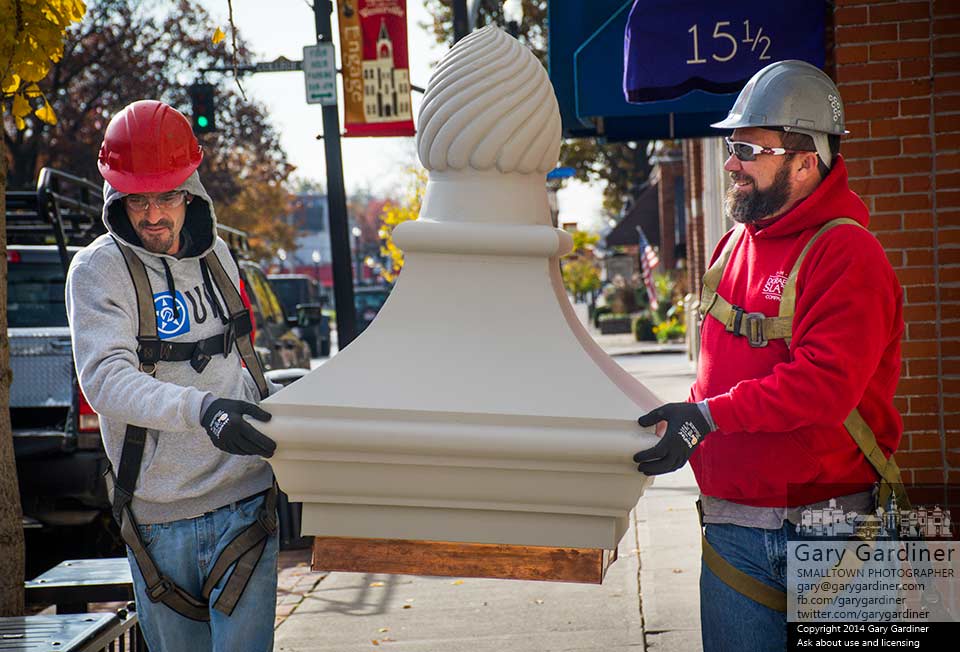 Workers install an upgraded acorn finial to the peak of the Holmes Hotel building in Uptown Westerville.
More photos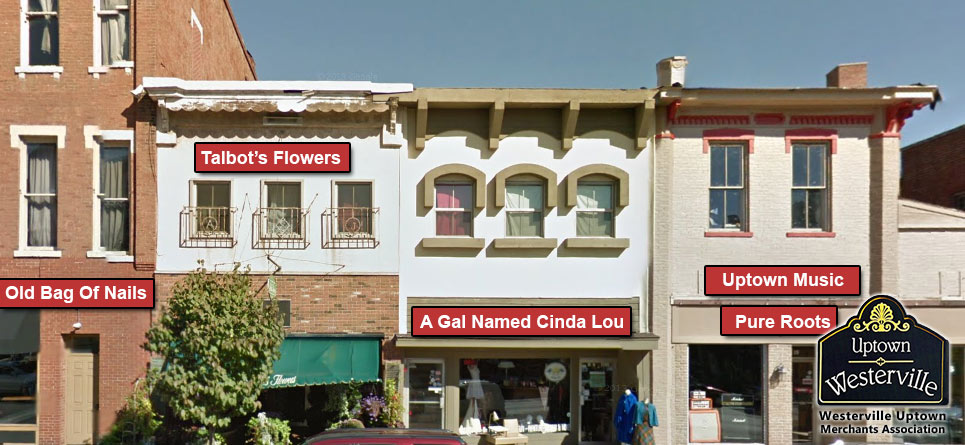 You'll be pleased to see that the scaffolding in front of Talbot's Flowers and A Gal Named Cinda Lou are gone.
Read More!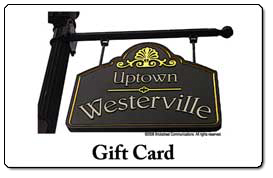 The Uptown Gift Card is a debit card sponsored by the Uptown Westerville Merchants Association to make shopping at its members easier for you and your family, friends, and business associates. With no fixed amount you can buy a card with just a few dollars or put as much as you want in any denomination. You can tailor your budget and fiscal needs and still provide a unique shopping experience to the person receiving your gift.
Shop Now