The Uptown Jeweler – Custom Jewelry Designs, Engagement and Wedding Bands.
A Professional Gemologist.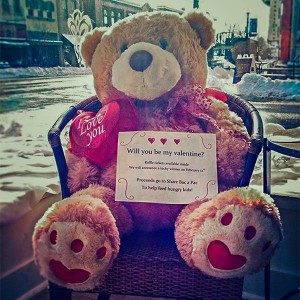 Please stop by our showcase store at Main and State and buy raffle tickets to win our favorite Teddy Bear. We hate to part with it but the ticket sales go to Share Bac A Pac, a local  group that makes sure kids don't go home for the weekend without a backpack full of food.
Don't worry about the cold weather and the snow. Your heart will be warmer by helping local children.
The raffle ends on Feb. 12 just in time for Valentines Day.
We love Westerville and feel privileged to be part of the community, and to be able to provide jewelry services to our customers for some of the most important moments in their lives.
31 North State St.
Westerville, OH  43081
614.882.4401
Make sure you look at our photo gallery of custom jewelry.
Email • Facebook • Twitter • Web
Google+ Pages: About • Photos • Map • Street View • Reviews
Morgan's Treasure Custom Jewelry In The News:
Living Local Magazine
Morgan's Treasure has gift certificates and accepts the Uptown Gift Card.
Hours
Tuesday thru Friday: 10 a.m. – 6 p.m.
Saturday: 10 a.m. – 5 p.m.
Closed Mondays
What we are known for: custom jewelry designs, engagement rings and wedding bands, necklaces and earrings, diamonds and gemstones, precious metals, jewelry repair, goldsmith, jeweler, gemologist