The Westerville Uptown Merchants Association Presents Midnight Madness 2015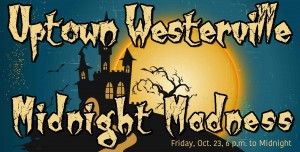 A long-time Uptown tradition, the Westerville Uptown Merchants Association presents Midnight Madness on October 23, 2015 from 6 p.m. to Midnight.
Midnight Madness is an annual showcase event for the Uptown Westerville merchants. With decorated shops, treats, surprises, and scary good deals, it's a fun opportunity to visit Uptown Westerville. This is the night for visitors to check out their favorite haunts and dare to venture where they've never been before!
Along with extended shop hours, Midnight Madness features a selection of kid and family-friendly events. While costumes are optional, merchants hope to see kids and grown ups dressed in their seasonal best. The Uptown Merchants will be passing out treats for the kids.
Plan your evening
Day: Friday, Oct. 23, 2015
Time: 6 p.m. until Midnight
Location: Uptown Westerville
Parking: City Hall parking lot, Church of the Messiah, and all public spaces in Uptown.
Here are just a few of the events that will be happening in Uptown that evening:
The Generations Performing Arts Center will have student dance performances on West College Ave.
There will be a live music in the City Hall courtyard. 5:30 – 7:30pm
Madness guests can take a free horse-drawn wagon trip through Uptown Westerville.
The wagon is sponsored by Naturally Curious Kids, Cinda Lou Shop, Buckeye Brewcraft, and Edwin Loy Home.
Twisted Taste of Westerville with several choices for dinner, drinks, and desserts at Uptown Westerville restaurants. 7 – 10pm
If you are not daring you can pick up food to go from the Westerville Noon Rotary and Lions clubs and everyone's favorite "Kettle Korn"
The Otterbein University American Chemical Society Student Affiliate will be conducting "Mad Science Experiments".
On the steps of City Hall a "Pet Costume Contest" will begin at 6pm $10 entrance fee with proceeds going to "RESCUEDOhio". Sponsored by Sunny Street Café and Captivating Canines.
Children can "Strut their stuff" on the Halloween "Cat Walk" in front of City Hall. Weather permitting big tv's will project their images for all to see.
Java Central, 2 Chicks and a Cookie and A Twist on Olives will present a "The Haunted Hollow" experience along their storefronts on the brick walk.
Amish Originals will have stories presented by the Westerville Library. 7-9pm
Halloween Chalk Mural. Guided by professional artist O'Linda, families will create a Halloween themed mural.
Live music will be presented around town in restaurants, wine stores, and businesses.
Individual stores participate in a window decorating and store decorating contest that make Uptown Westerville festive and fun.
#MidnightMadnessUptown is an Uptown Westerville tradition spanning more then 25 years and offers fun for all ages.